If you don't like super steep, scenic climbs …. look away. I rode this very slowly but very happily.
First, a big thanks to Nicholas for kindly suggesting this route to me the other day in a comment. Much appreciated.
The climb starts in Villeneuve at the tip of Lac Léman (Lake Geneva) but quickly leaves civilization as the road enters a narrowish mountain valley and goes up.
The route to Col de Chaude is steep — and completely deserted. There are no towns, villages, etc. on this 13 km climb (@10% average!) – barely a chalet or two. And so beautiful.
Nearing the top, we ran into ice and snow. Woohoo, winter is coming.
Sadly no Col sign at top …. and my 5 layers seems to add a few pounds. 😉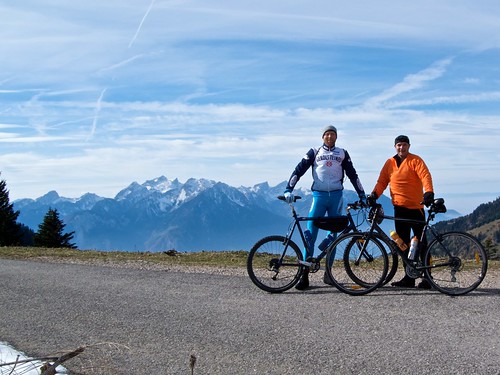 The road linking Col de Chaude and Col de Jaman has 2 kms averaging 11% (!) and unbelievable views of the Lake:
We joined the Col de Jaman route much of the way up, but still plenty of work to do. No pics, but some beautiful ridge stretches through mountain woods.
The top:
By the time we reached Col de Jaman I was exhausted, but there was still a tiny bit of climbing as we detoured to visit Col de Sonloup part way down – I was cooked and glad that the uphill was over.
The mapped descent is fabulous. Winding, deserted, scenic, etc.
All in all one of the best rides of the year.